1.About the Author...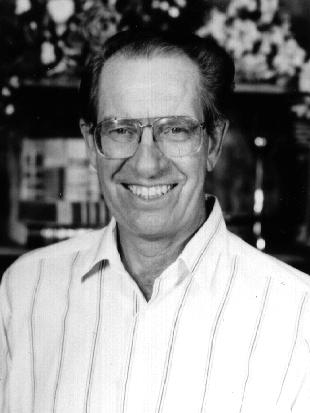 ---
"Study to show thyself approved unto God, a workman that needeth not to be ashamed, rightly dividing the word of truth." - II Timothy, Chapter 2, Verse 15
---
Les Feldick is an Oklahoma rancher and has enjoyed that lifestyle for many years.
Les and his wife, Iris, have been married since 1953. They have three grown children and eight grandchildren.
What Les really likes is teaching the Bible. He has been teaching home-style Bible classes for over 30 years. His teaching is non-denominational, and his students come from diverse denominations and backgrounds. It was through one of these classes that a student helped open the door for his "Through the Bible" television program.
Les has never had any formal Bible training. It is through the Holy Spirit that he is able to teach night after night, never using lesson plans or notes, and seemingly, never growing tired. Les teaches in four different cities on a regular basis.
Les starts his classes in Genesis 1:1 and works all the way through the Bible. All the Scriptures quoted are referenced from the King James Version. Les comments that "Once a class has been 'Through the Bible' with me, we generally start over and do it again."
Les Feldick Ministries offers 6-hour video tapes of his television class (12 programs each), as well as DVD's, transcribed books, audio cassette tape sets, and CD's of the programs. See the ordering site for prices and ordering information.
Les Feldick Ministries, 30706 W. Lona Valley Rd., Kinta, OK 74552
Phone: 1-800-369-7856 or (918) 76
Les Feldick Ministries
Doctrinal Statement
---
We believe in a triune God composed of three persons; God the Father, God the Son, and God the Holy Spirit. All individual personalities, yet functioning as one.
We believe our Bible is the inerrant Word of God, verbally inspired by the Holy Spirit, and holy men of God wrote without any other resource [II Peter 1:21].
We believe Jesus Christ, the son of God, was the creator of everything [John 1:1, Colossians 1:16, Hebrews 1:2].
We believe God the Son became the incarnate God in the flesh by way of the virgin birth [Galatians 4:4, Matthew 1:23].
We believe the human race began with Adam, perfect and sinless, but after his act of disobedience, precipitated the fall of the whole human race [Romans 5:12, Romans 3:23].
We believe God has provided the way back to fellowship with Himself through faith and faith alone in Jesus Christ and his death, his burial of three days and three nights, and his resurrection in power and glory [I Corinthians 15:1-4].
We believe every believer of that gospel is baptized by the Holy Spirit into the body of Christ [I Corinthians 12:13, Ephesians 1:23].
We believe the communion table is the time of reverential contemplating of the finished work of the cross and that there is no set schedule in practice [I Corinthians 11:26].
We believe the true believer will live a life pleasing to God [Titus 2:1, 12, & 13, Galatians 5:22 & 23].
We believe in the pre-tribulation out calling of the body of Christ [I Corinthians 15:51-54, I Thessalonians 4:13-17], followed by a seven-year tribulation [Daniel 9:27], and the second coming of Christ to set up the thousand year reign of Christ [Zechariah 14:1-9].
We believe the lost of all the ages will be resurrected and appear before the great white throne and then sent to their eternal doom [John 5:28 & 29, Revelation 20:11-15].
PLAN FOR HEAVEN
KING JAMES VERSION
ROMANS 6:23 For the wages of sin is death; but the gift of God is eternal life through Jesus Christ our Lord.
ROMANS 1:16-19 For I am not ashamed of the gospel of Christ: for it is the power of God unto salvation to every one that believeth; to the Jew first, and also to the Greek. For therein is the righteousness of God revealed from faith to faith: as it is written, The just shall live by faith. For the wrath of God is revealed from heaven against all ungodliness and unrighteousness of men, who hold the truth in unrighteousness; Because that which may be known of God is manifest in them; for God hath shewed it unto them.
I CORINTHIANS 15:1-6 Moreover, brethren, I declare unto you the gospel which I preached unto you, which also ye have received, and wherein ye stand; By which also ye are saved, if ye keep in memory what I preached unto you, unless ye have believed in vain. For I delivered unto you first of all that which I also received, how that Christ died for our sins according to the scriptures; And that he was buried, and that he rose again the third day according to the scriptures: And that he was seen of Cephas, then of the twelve: After that, he was seen of above five hundred brethren at once; of whom the greater part remain unto this present, but some are fallen asleep.
ROMANS 5:8-11 But God commendeth his love toward us, in that, while we were yet sinners, Christ died for us. Much more then, being now justified by his blood, we shall be saved from wrath through him. For if, when we were enemies, we were reconciled to God by the death of his Son, much more, being reconciled, we shall be saved by his life. And not only so, but we also joy in God through our Lord Jesus Christ, by whom we have now received the atonement.
ROMANS 4:5 But to him that worketh not, but believeth on him that justifieth the ungodly, his faith is counted for righteousness.
EPHESIANS 1:13-14 In whom ye also trusted, after that ye heard the word of truth, the gospel of your salvation: in whom also after that ye believed, ye were sealed with that holy Spirit of promise, Which is the earnest of our inheritance until the redemption of the purchased possession, unto the praise of his glory.
I THESSALONIANS 4:13-18 But I would not have you to be ignorant, brethren, concerning them which are asleep, that ye sorrow not, even as others which have no hope. For if we believe that Jesus died and rose again, even so them also which sleep in Jesus will God bring with him. For this we say unto you by the word of the Lord, that we which are alive and remain unto the coming of the Lord shall not prevent them which are asleep. For the Lord himself shall descend from heaven with a shout, with the voice of the archangel, and with the trump of God: and the dead in Christ shall rise first: Then we which are alive and remain shall be caught up together with them in the clouds, to meet the Lord in the air: and so shall we ever be with the Lord. Wherefore comfort one another with these words.
ROMANS 10:8-13 But what saith it? The word is nigh thee, even in thy mouth, and in thy heart: that is, the word of faith, which we preach; That if thou shalt confess with thy mouth the Lord Jesus, and shalt believe in thine heart that God hath raised him from the dead, thou shalt be saved. For with the heart man believeth unto righteousness; and with the mouth confession is made unto salvation. For the scripture saith, Whosoever believeth on him shall not be ashamed. For there is no difference between the Jew and the Greek: for the same Lord over all is rich unto all that call upon him. For whosoever shall call upon the name of the Lord shall be saved.
REVELATION 22:21
The grace of our Lord Jesus Christ be with you all. Amen.
---
ROMANS 3:23-27 For all have sinned, and come short of the glory of God; Being justified freely by his grace through the redemption that is in Christ Jesus: Whom God hath set forth to be a propitiation through faith in his blood, to declare his righteousness for the remission of sins that are past, through the forbearance of God; To declare, I say, at this time his righteousness: that he might be just, and the justifier of him which believeth in Jesus. Where is boasting then? It is excluded. By what law? of works? Nay: but by the law of faith.